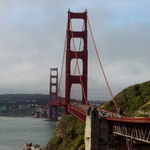 Cambridge, UK


Venezia

Berlin

Paris

USA 2003

USA 2006

Copenhagen

Barcelona

Harvard 2008

New York
I've always been lucky to have the opportunity to travel, both work related and privately. An opportunity to discover and experience other places, people, and cultures.

The desire to travel is deeply rooted in me. The opportunity to experience, to be curious, to wander the streets and the nature – like a kind of meditation when moving.

The pictures are separated geographically, selected because they're characteristic for the place or personally matters the most because of an event or an atmosphere.